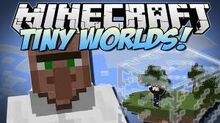 "Trayaurus? What is going on...please don't step on me. Please."
-Dan's intro
The Tiny Worlds mod was an Minecraft Mod that allowed the player to create small worlds in minecraft and to enlarge other mobs, turning them into Giant-like creatures. In the intro of the mod review,
Dan
used the mod to enlarge
Dr. Trayaurus
.